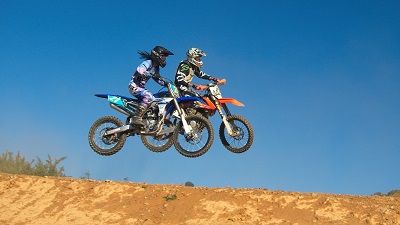 Motorcycles are stolen at a higher rate than cars and are much more difficult to recover. Dirt bikes, in particular, are easy to sell because many are not registered. If you want to keep your dirt bike from being stolen, the first step is to ensure it is registered. This was the first piece of advice we received when we spoke with a motorcycle locksmith on how to safeguard your motocross bike. Here is the complete list of 4 safety precautions recommended by locksmiths:
1. Use the Right Locks
There are various types of standard motorcycle locks. You may also need a custom lock, such as a brake lever lock. The most important thing to review about locks is the material and locking system. Make sure the lock is big, beefy, and strong. If you can afford it, go for the most expensive cable or disk lock, especially if you have an expensive rare bike more likely to attract thieves. The priority is to make it harder for thieves to get away with your dirt bike. You can also find budget-friendly kryptonite locks, but stay away from these cheaper products in favor of more reliable locks.
Clamps are also essential. You should ask a motorcycle locksmith for suggestions or review the best options based on your bike's design. Once you have the right lock, get it fixed properly and keep your bike locked whenever it is stationary, even for a short time. Your motorbike should stay locked in the garage, the back of your truck, or on the trailer.
2. Register the Bike
Registering your motocross bike is the first thing you should do. Most dirt bikes are hard to track because they aren't registered. Registration documentation includes various details about the bike, including its license, hidden identification information, visible characteristics and more. As such, you should register and document the bike number. Registration should be an effortless task if you follow the correct procedure. You'll need to get a safety inspection for some bikes, but you should try to even when the check isn't a necessity. Next, visit the registration office and pay the applicable fees. You'll receive a license plate and other tags that you can display on your bike for instant identification. Documenting high-quality pictures of the bike is also crucial for easy tracking and identification. Note that registration and documentation don't prevent theft. You still need clamps, cables and lever locks to stop thieves from riding your bike. However, registration makes tracking more efficient.
3. Get Insurance for Your Bike
Motorcyclists should get insurance for their bikes, in addition to installing a brake lever lock and a disc lock. Like registration, insurance doesn't prevent thieves from stealing your bike. However, it gives you peace of mind knowing the insurance company will cover the loss in case of an incident. Insurance carriers expect bike owners to have enough security features and locks to prevent theft. They step in to cover various costs, including tracking your stolen motorcycle, repairing bike damages caused by the thieves, and providing money for a new bike. Insurance coverage is unique for each policy, so you should take time to review the contract terms before opting in. To insure a motorcycle, you'll need to provide the VIN (Vehicle Identification Number), a 17-character unique code designating your dirt bike. Make sure you keep the VIN and other paperwork safely. العاب اون لاين مجانا According to reports, only 20-30% of stolen motorcycle tracking are successful without proper documentation.
4. Enhance Storage Security
Securing bike storage rooms and fixtures safely is a vital dirt bike theft prevention tip for motorcyclists. If you have an expensive bike, you should store it safely to protect it from the elements. Bikes should rest away from street view in locked garages and spaces. You can secure the bike to a grounded object using cables, and don't forget the disk lock and clamps. What's more, you need to ensure the area is protected from burglars and thieves. If you store the bike in a garage or your house, install an alarm. CCTV cameras and alarms will complement the physical locks by providing extra surveillance and notifying you of unauthorized access. ربح المال من لعب الالعاب
Key Important Takeaways
There are various other things you can do to prevent your motocross bike from thieves. It is essential to keep watch on the bike at all times. موقع المراهنات على المباريات If you are away, the cameras and alarms are your eyes. Ensure the surveillance system works efficiently. For the physical locks, work with a reputable motorcycle locksmith. More importantly, register and test-drive your bike or use a licensed professional from a reputable company.