James Stewart Freestone Spring Championship
March 16-21, 2015 (No Rain Dates)
February 28-March 1 (Spring Warm-Up)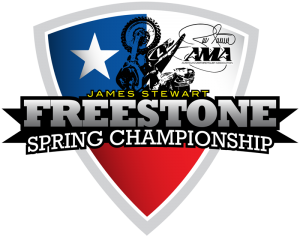 In four short years, this event has become the single largest amateur motocross event in Texas and one of the largest in the United States.  The Freestone Spring Championship provides riders from Texas an opportunity to measure themselves against the top amateur racers in all age groups and classifications.
Riders are provided an opportunity to see how the factories support their efforts with trackside service and contingency money.  Furthermore, the Spring Championship treats the racers much like Pro's by offering competitors their gate picks for the 1st moto's based on their lap times from practice.
After hour activities provide families with time to sit back and enjoy time together.
The "cherry on top" is a special invitation that is given to each class champion to join James Stewart at his compound in Florida for the "Champions Ride Day."  "I never had the opportunity to ride at a pro's house when I was growing up" said James Stewart.  "That's why I wanted to offer the riders at Freestone that opportunity."
Online Registration (Closed)
Factory Contingency: (Totaling over $140,000)
Cobra 
Honda ($9,750)
Kawasaki ($23,250)
KTM ($46,225)
Suzuki ($31,325)
Yamaha ($34,300)
Class Structure (Revised 12/01/14)

Supplemental Rules (Revised 03/10/15)

Schedule & Information (Revised 03/11/15)
Pro's Race Schedule (Revised 01/15/15)
Special Events (Released 03/03/15)