James Stewart Freestone Spring Championship 
Round 1 of the Women's Mx Championship
March 6-10 2024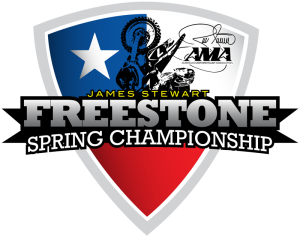 CASH ONLY AT FRONT GATE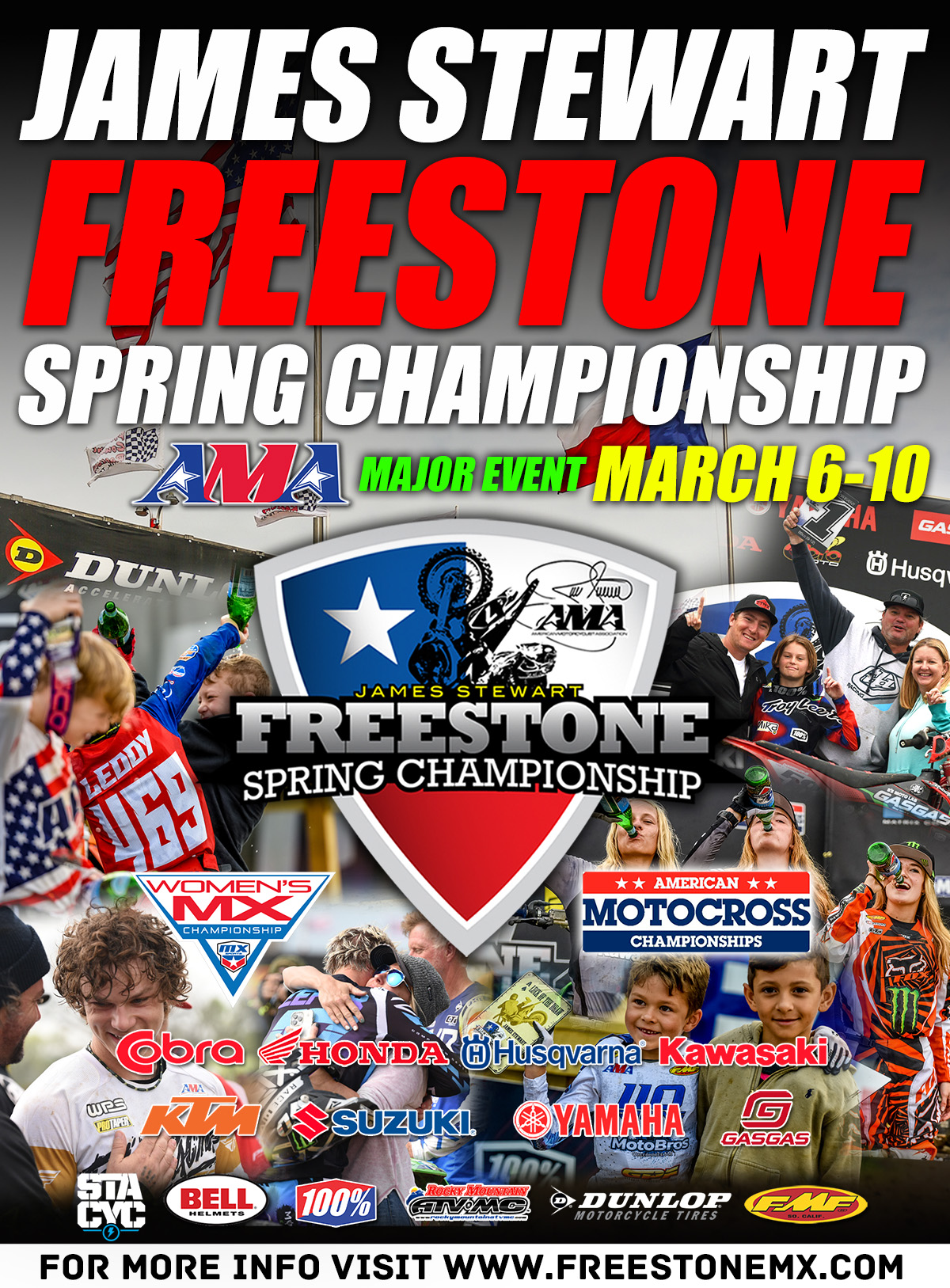 Kiosk are being used this year for registration. 
Please bring your AMA card to swipe at the kiosk to assist with the data input.
Online Registration (Dec. 4th, 2023 – Mar 1st, 2024  11:59 pm central time)
**** Please provide ACCURATE contact information on your registration form. For those who earn an invite to James Stewart Ride Day without accurate contact information (email/phone number) you may miss your opportunity to attend. 
Please print minor release for minor riders who will be attending with someone other than parents prior to coming to track. The release needs to be signed by both parents and notarized before coming to the track. All minors attending this event without parents must come with notarized statement from Parents or legal Guardian giving permission for another adult to act as Authorized Adult to sign releases.  See website for example under Minors Consent Tab. Please present both documents at registration.
Event Information
Daily Schedule
Pro Schedule
Special Events
Supplemental Rules
Pit Vehicle Rules
NO Drone Policy- (only contracted media companies are allowed to pilot drones, Must have drone license and insurance)
RMATV RaceGas Program-In order to receive your racegas credit please be sure to provide your correct physical address and your email address on your entry form.
*Event Side Notes*
 Laundry- Laundry service will be onsite by front gate between 8am-9am each morning and 3pm-4pm each evening to pick up laundry for those who need service.

Clothes picked up at am visit will be returned at pm visit each day. Clothes picked up at pm visit will be returned the following morning am visit.
Pay on pickup of your items. They take cash and credit cards for payment. Price for laundry service is $2.00 per pound.

Golf Carts-  Make your golf cart reservation prior to arrival at event.

To make reservations contact Texas Golf Carts: Local (254)848-5991  or (800) 578-5278
You will need to sign your contract prior to arrival with Blake at Texas Golf Carts by making your early reservation

Black Water Service- Septic & Portables will be onsite daily. DO NOT WAIT until late in the day each or until the end of the week to be dumped. Trucks will be onsite each day servicing the facility port-o-johns. When they arrive announcements will be made that they are onsite. If you need to have your RV serviced or are close to needing it please flag them down while onsite. Each rig takes about 15 min to service and the trucks will not be onsite later than 5pm so do no wait until last minute. Please arrive to the facility with an empty tank.
Water Service– Please arrive with a FULL tank of water. Our water supply is limited by the city for large events. We provide 2 water wagons from 10am-3pm that move throughout the pits. Water will be turned on from 6am-9am and 6pm-9pm to top off. This is not provided for Bike wash. Bike washing can be done near green tanks around outside of the pit area.
All Changes in RED
Monday/Tuesday, March 4th-5th – Early arrival (Racer) Gate B
Monday/Tuesday March 4th-5th Vendor Move-In Gate A
Wednesday, March 6th -Registration Opens 
Wednesday, March 6th – Practice Day
Thursday, March 7th – Racing Begins