15th Annual Honda of Houston/FMF AMA Texas Winter Series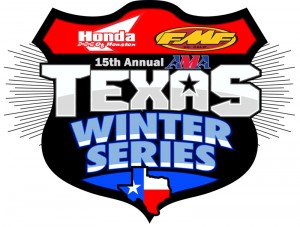 Only a couple classes were updated for 2015.  The new year will bring an Air-Cooled ONLY class for 50cc bikes.  The remaining PeeWee classes will see the return of the 51cc 4-5 and 51cc 6-7 along with the standard 51cc 4-6, 7-8 and 4-8 Open.  The Mini Beginner classes have been revamped as well for the Texas Winter Series to give our newest riders plenty of competition to race against.
For Sunday big bike day the addition of the Two-Stroke 16+ class will offer a new smell in the air.  Returning in 2015 is the very popular 250 C age group classes.  The Vet's were not forgotten as the series will offer Vet Expert riders with the return of the Vet 25+ A class.  Everyone will line the fences to see who the BIG DOG is for 2015 when the 250 and 450 pro classes hit the track.  Each round of the series is an AMA Pro Am event and will only add to the buzz.  The Pro-Am purse will increase from $15,000 in 2014 to $20,000 in 2015 over the five rounds (see Purse Payout below).
Awards and contingency product will be handed out at the final round to the TOP 10 finishers in each amateur class that competed in 4 of 5 rounds.
Rd 1  January 3-4, 2015 – Freestone Raceway  (Rd 1 – Results)
Rd 2  January 17-18, 2015 (Make-Up Date) – Swan Raceway Park  (Rd 2 – Results)
Rd 3  January 24-25, 2015 – Oakhill Raceway  (Rd 3 – Results)
Rd 4  February 7-8, 2015 – Village Creek MX  (Rd 4 – Results)
Rd 5  February 28-March 1, 2015 – Freestone Raceway (Rd 5 – Results)
Class Structure (Revised 12/01/14)
Purse Payout (Released 08/15/14)
Points Scale (Released 06/15/14)
Specialty Points (Golden Helmet Award, Bronze Bar Award, Vet Horizon Award)
Cobra ($3,000)
Honda ($35,250)
Kawasaki ($25,500)
KTM ($11,400)
Suzuki ($47,000)
Yamaha ($17,500)
Note: Factory contingency may not be posted when the series begins however the OEM's will retro-payout contingency for all rounds in the Texas Winter Series.  You cannot be paid factory contingency unless you register as required by the OEM's.  Cobra pays overall for the series.