2016 FMF AMA Texas Winter Series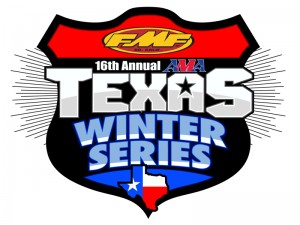 Deemed the "ROUGHEST, TOUGHEST" series in the state of Texas, the 16th Annual FMF AMA Texas Winter Series will once again challenge Texas riders against some of the top out-of-state riders that come to the Lone Star state to escape their frozen ground.  As recognized by the AMA as the sole "premier series" in Texas, competition from around the country comes to showcase their talents on the top tracks and against the top riders of Texas.  The Texas Winter Series also offers the first AMA Pro-Am series of the year in the U.S. to riders bidding for their Pro Motocross license.
One of the many traditions of the series offers Mini's racing on Saturday and Big Bikes on Sunday.  The Texas Winter Series is also the "LARGEST, RICHEST" series in the state and surpasses $300,000.00 in great awards and contingency product that is handed out at the final round to the TOP 10 finishers in each amateur class that compete in 4 of 5 rounds.
Mark your calendars for New Years Eve weekend for the series opener at Freestone Raceway.  With an average of 554 entries per round in 2015, there is competition on each and every lap.
Rd 1  January 1-3, 2016 – Freestone Raceway
Rd 1 Online Registration (December 21-29)
Rd 2  January 16-17, 2016 – Swan MX Raceway Park
Rd 2 Online Registration (January 4-12)
Rd 3  January 30-31, 2016 – Oakhill Raceway
Rd 3 Online Registration (January 18-26)
Rd 4  February 13-14, 2016 – Village Creek MX Park
Rd 4 Online Registration (February 1-9)
Rd 5  February 27-28, 2016 – Freestone Raceway
Rd 5 Online Registration (February 15-23)
Rain Dates: Jan 9-10; Jan 23-24; Feb 6-7; Feb 20-21
Class Structure (Released 11/01/15)

Purse Payout (Not Released Yet)
Points Scale (Not Released Yet)
Specialty Points (Golden Helmet Award, Bronze Bar Award, Vet Horizon Award)
Note: Factory contingency may not be posted when the series begins however, the OEM's will retro-payout contingency for all rounds in the Texas Winter Series.  You cannot be paid factory contingency unless you register as required by the OEM's.  Cobra pays overall for the series.