February 5, 2013 (Wortham, Texas) – With six moto's scored and four points paying moto's still left for the 13th Annual Honda of Houston/FMF AMA Texas Winter Series, one of the most prestigious awards is up for grabs.  The rider who wins the Bell Golden Helmet Award is offered a one-year sponsorship direct with 
Bell Sports
 and this sick, a one-of-a-kind 
Tagger Design
 painted Bell Moto 9 Helmet as the trophy.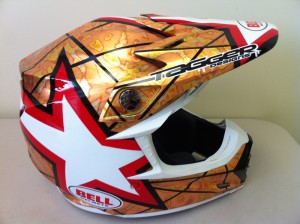 2013 Bell Golden Trophy
The Bell Golden Helmet Award goes to the rider with the most accumulated points.  A rider can compete in as many classes as they qualify for however the point system awards one point for every rider in a class.  As an example, if there are 40 riders in a class, first place receives 40 points, second would be 39 points, third – 38 points, etc.  One bonus point is given for a win and the each moto is scored.
Last years Bell Golden Helmet recipient, Austin Forkner, is leading the pack of riders for 2013.  Below is a list of the top 5 riders and their scores.
472 – Austin Forkner
430 – Brandon Walther
380 – Preston Taylor
326 – Zane Marrett
311 – Dayne Hickey
Others in the hunt include Alexis Garza, Ashton Bloxom, Austin Stenner, Blake Harris, Brock Walker, Caden Davis, Christon Davis, Colt Nichols, Devon Oxsheer, Ethan McMahon, Garret Strege, Izaih Clark, Jack Richard, Jesse Flock, Kyle Powers, Travis Hodnett and Zach Jones, all with 200 points or more.
To get registered online for Round 4 at Oakhill Raceway this coming weekend, 
CLICK HERE
 now before early entry closes on Thursday.
About Bell Sports:
From humble beginnings in the garage of a 1950's Southern California speed shop to the heads of champions in auto, motorcycle and bicycle competitions all over the world, Bell is synonymous with protection and progression. Part of Easton-Bell Sports and based in Scotts Valley, Calif., Bell is the world leader in the design, manufacture and distribution of bicycle and motorcycle helmets and accessories. For more information, visit http://www.bellhelmets.com/powersports/