May 8, 2012 – General Admission and Holeshot Club tickets are on sale from now and until Friday, May 25th for Round 2 of the Lucas Oil AMA Motocross Championship coming to Freestone Raceway on Saturday, May 26th.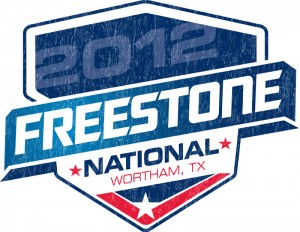 With the largest motor sports weekend in America only three weeks away, new gate hours and traffic routes to the Miller Ranch will allow amateur racers, campers and fans to get in early starting on Friday at 9am.
Amateur racers can register online and save $5 per race entry for all the events listed below. Registration is open from now until Monday, May 21st at 11:00pm. https://secure.tracksideonlineresults.com/freestone/
Fri, May 25 – Texas Night Series SHOOTOUT
Sat-Mon, May 27 & 28 – AMA Women's Cup
Sat-Mon, May 27 & 28 – AMA Amateur Day
Don't forget about the "Freestone For Life" campaign. Freestone Raceway is offering up two FREE tickets to the AMA Freestone Pro National ….. FOR LIFE. One lucky winner will be chosen to receive a pair of FREE general admission tickets to the Freestone Pro National for LIFE!!!
Just log onto the FreestoneMX Facebook Page and post on the Freestone wall stating "I'm A Freestone Lifer" and you will be eligible to win. The 2012 winner will be chosen on May 21st at 12pm CST.
Note: Holeshot Club passes are limited.
About Freestone County Raceway LLC:
Freestone County Raceway was established in 2000 and is located on the 1150 acre Miller Ranch. Freestone is home to Round 2 of the Lucas Oil AMA Motocross Championship.  Freestone also promotes the largest amateur series in Texas (Texas Winter Series), the James Stewart AMA Spring Championship and boasted the brightest lighting of any motocross track in the country.