April 23, 2012 (Wortham, Texas) – While the Supercross season is about to finish off, the men and women of the Lucas Oil AMA Motocross Championship are about to make the one and only appearance  in Texas for the 6th Annual Freestone Pro National, Memorial weekend on Saturday, May 26th.
The "Freestone For Life" campaign is officially kicking off from now until Monday, May 21st.  What is the "Freestone For Life" campaign you ask?  Good question.
Freestone Raceway is offering up two FREE tickets to the AMA Freestone Pro National ….. FOR LIFE.  That's right; one lucky winner will be chosen to receive a pair of FREE general admission tickets to the Freestone Pro National for LIFE!!!
The rules are simple, just log onto the Freestone MX Facebook Page and post on the Freestone wall stating "I'm A Freestone Lifer" and you will be eligible to win.  Simple enough.  The 2012 winner will then join Dylan Bennett from the class of 2011 Freestone Lifer's.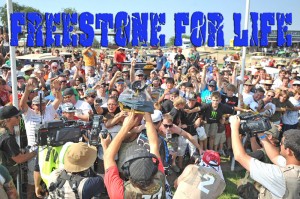 The 2012 Pro schedule has injected new excitement by giving more racing for the top 40 gate picks in each division.  In addition to timed and non-timed practice, riders will be competing for one of the 40 gates in the 250 and 450 Consolation race prior to opening ceremonies.  If that wasn't enough, the first moto of the Women's Motocross (WMX) will also take place prior to opening ceremonies.  The entire Memorial weekend is packed at Freestone as there will be four great days of racing.
The Memorial Moto Mayhem weekend kicks off with the Texas Night Series Shootout.  Amateur riders from across the state will compete under the incredible lighting of Freestone County Raceway.  Gate passes are only available during the day of the event.  Passes are $10 for Friday nights Shootout.  Note that if you have Saturday's General Admission ticket, you can still come and camp without having to purchase the Shootout pass.
After Round 2 of the Lucas Oil AMA Motocross Championship hits Freestone Raceway, the amateur will then have the opportunity to ride the same track starting on Sunday and Monday.  The AMA Amateur Day, AMA Pro/Am and AMA Women's Motocross Cup will all take place on May 27th and 28th, 
For tickets to the Freestone Pro National, click here to "Buy Tickets Now."
Note: If you have already purchased your tickets and you are picked as a Freestone Lifer, you will be reimbursed for two (2) General Admission tickets.  No double post.  Double post will be eliminated when found.