December 3, 2012 (Wortham, Texas) – Online registration is now open for the 2013 James Stewart AMA Spring Championship at Freestone Raceway on March 19th-23rd.  This years meet will again feature a two-moto format with sight laps and long moto's for each class.  Timed Practice will also return to the event and award riders their gate pick based on best lap times in each class.  The meet will also serve as an AMA Pro Am.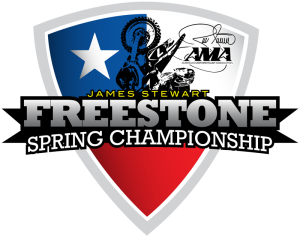 "We are happy to host the event for James again" said Tony Miller, President of Freestone Raceway.  "2013 will be the third year for the event and the second year that JS7 has been involved.  The event has shown riders what to expect when they come to a pro national track and from 2007 until 2012, Freestone Raceway was one of the most demanding venues on the circuit.  James' years of experience in the industry are aiding us to evolve the Spring Championship and provide more to the riders.  Having riders earn the right to ride with James at his own facility is icing on the cake."
Changes for 2013 include adding 51cc modified and new Vet classes.  "We wanted to figure out a way to allow 50cc riders to make it worth their while in traveling and to hopefully feed the 65cc classes in the very near future" said Tom Shields, Event Director for the JSSC.  "We're trying to have everyone able to compete on one bike in two classes and we feel this years JS7 Spring Championship allows that."
Riders can register online at https://secure.tracksideonlineresults.com/freestone/, mail-in form or register at the track.  Entry, gate and camping fees are the same as last year.  If riders register early, they will have a better chance in keeping their competition number.  For more meet information, please go to http://67.205.147.236/racing/events-2/spring-championship/.
About James Stewart Entertainment LLC:
For the past five years, the mission of James Stewart Entertainment (JSE) has been to present both the motocross community and the general public with quality driven interactions designed to entertain, educate and motivate our audience to achieve more. As a realization of a life long goal, James Stewart Jr. has mobilized JSE to reach out further into our fan base by participating in various events and appearances across the globe and throughout the Internet. For more information on James Stewart or JSE please log on to www.js7.com or follow on Twitter @JS7.
About Freestone County Raceway LLC:
Freestone County Raceway (FCR) was established in 2000 and is located on the 1150 acre Miller Ranch. Freestone Raceway (pro national track) was established in 2007.  FCR promotes events and series like the AMA Texas Winter Series, the James Stewart AMA Spring Championship, AMA Women's Cup, AMA Texas State Championship, Texas Night Series and boasted the brightest lighting of any motocross track in the country.