August 1, 2011 (Wortham, Texas) – Freestone County Raceway is proud to announce the 2nd Annual Freestone Spring Championship for the week of February 28 through March 3, 2012.  Oakley has jumped on board in support of the 2012 Spring Championship with over $34,000 in merchandise.
In 2011, the Spring Championship took steps for amateur national level racing by conducting "Timed Practice".  Timed Practice was used to give riders their first moto gate pick based on their lap times in practice.
For 2012, Timed Practice returns but with a new addition.  Oakley will award the beautiful Oakley Holeshot Watch (value $695/ea) to the rider with the fastest lap from Timed Practice to every rider in each of the 49 classes at the Freestone Spring Championship.  Deemed the O-Lap, all winners will be awarded their watches during ceremonies on Tuesday, February 28th at 7:00pm.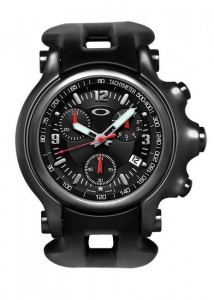 "We are privileged to have a company such as Oakley recognize amateur riders in this manner" said Tom Shields of Freestone.  "This places amateur racing at an all new level and we are happy to have Oakley leading the way" Shields added.
Brad Melear of Oakley offered "we are proud and excited to pay homage to Oakley's roots in motocross by aligning ourselves with such a topnotch facility as Freestone and promoters like Tony Miller and Tom Shields who eat, live and breath the sport.  Much like Oakley, Tony and Tom are always trying to improve their last accomplishment all for the betterment of the sport and fans."
Brad Flynn of Oakley said "hailing from under the Lone Star flag, this is especially close on a personal level and exciting to be a part of the future of motocross, a great event, and a great partnership."
About Oakley:
Oakley, Inc. was established in 1975 and is a sport and lifestyle brand, driven to ignite the imagination through the fusion of art and science. Building on its legacy of innovative, market-leading optical technology, the company manufactures and distributes high performance sunglasses, prescription lenses and frames, goggles, apparel, footwear, and accessories.  The essence of the brand is communicated through hundreds of professional and amateur athletes who depend on Oakley products to provide them with the very best while they redefine what is physically possible.
About Freestone County Raceway:
Freestone County Raceway was established in 2000 and is located on the 1150 acre Miller ranch.  Freestone is home to Round 2 of the Lucas Oil AMA Pro Motocross Championship.  Freestone also promotes the largest amateur series in Texas and boasted the brightest lighting of any motocross track in the country.  For more information, visit www.freestonemx.com.