May 13, 2013 – Online registration is open until Tuesday, May 14th for Round 4 of the North and South Texas Night Series.  The South Texas Night Series will be visiting Three Palms Sports Park in Conroe and the North Texas Night Series will head to Badlands MX Park in Celeste this Saturday night, May 18th for the finale of each series.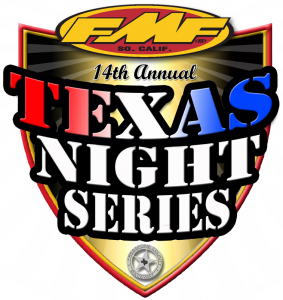 Riders from each series will be trying to insure they are in the Top 20 in overall series points to be eligible for the FMF Texas Night Series Invitational Shootout on Saturday, June 8th at Freestone County Raceway.  Only riders in the Top 20 in each series will be invited and no other rider can compete in the North vs South Shootout so all is on the line this weekend.
Save $5 per entry by using early registration below.
Register Now:
Round 4 (South) – Three Palms Sports Park
Round 4 (North) – Badlands MX Park
Below are riders and the classes they are not qualified for the Shootout.  There are many riders are the bubble from 15th overall on back in a class.  To check the "Series" points, CLICK HERE.
(South) Supermini 12-16
(South) 125-250 Beginner
(South) 250 C
(North) Schoolboy 12-16
(North) 250 C
21st – JONATHAN AMEZQUITA
#112 – DENISON, TX
12th
25 (-150)
22nd – KLAYTON REEVES
#849 – WAXAHACHIE, TX
8th
24 (-151)
23rd – CODY SMALLEY
#63 – PRINCETON, TX
9th
23 (-152)
24th – COLLIN WISE
#131 – LONGVIEW, TX
9th
22 (-153)
25th – AUSTIN COWETT
#73 – ANTLERS, OK
13th
19 (-156)
26th – TRAVIS SALAZAR
#645 – FORT WORTH, TX
12th
18 (-157)
27th – JOHNATHAN TAWNEY
#26 – MART, TX
12th
17 (-158)
28th – ELRIC FLORY
#506 – SOUTHLAKE, TX
13th
15 (-160)
28th – CASEY TEER
#696 – RICHARDSON, TX
14th
15 (-160)
30th – BRAD BRUMLEY
#122 – MIDLOTHIAN, TX
17th
13 (-162)
30th – JAKE HALL
#16 – FRISCO, TX
16th
13 (-162)
32nd – CHRISTIAN EDWARDS
#7 – PARIS, TX
17th
12 (-163)
32nd – KAMERON ELLIS
#20 – ROBINSON, TX
16th
12 (-163)
34th – JUSTIN BENNETT
#218 – ROWLETT, TX
19th
8 (-167)
35th – JAKE LIPPARD
#176 – FORT WORTH, TX
19th
6 (-169)
36th – ZACHERY` PILAND
#906 – BLUE RIDGE, TX
20th
4 (-171)
37th – COLBY WILSON
#911 – OVILLA, TX
22nd
1 (-174)
(North) 125-250 Beginner
21st – CODY PRICE
#723 – WACO, TX
11th
22 (-148)
21st – DYLAN SPOON
#257 – CADDO, OK
10th
22 (-148)
23rd – KRIS WALKER
#188 – MCKINNEY, TX
12th
21 (-149)
24th – DANNY SELF
#x – CORSHATTA, LA
11th
20 (-150)
24th – AARON MARTINEZ
#530 – GARLAND, TX
12th
20 (-150)
24th – NIGEL DOYLE
#890 – MANSFIELD, TX
13th
20 (-150)
27th – MICAH DAVIS
#8 – WESTHERFORD, TX
14th
17 (-153)
28th – TANNER VANCE
#1 – ALVARADO, TX
14th
14 (-156)
28th – DALTON CANEN
#247 – GRANDVIEW, TX
15th
14 (-156)
30th – GARRETT MCCOURT
#298 – CLIFTON, TX
15th
13 (-157)
31st – JOSHUA SIMMONS
#101 – BURLESON, TX
16th
10 (-160
(North) 450 C
19th – DYLAN FRENCH
#184 – RED OAK, TX
8th
26 (-139)
19th – BRYAN VAUGHAN
#30 – PITTSBURG, TX
9th
26 (-139)
19th – RYLEY JOHNSON
#228 – SUMNER, TX
7th
26 (-139)
22nd – WADE SHEPARD
#725 – SEAGOVILLE, TX
10th
24 (-141)
23rd – JUSTIN BENNETT
#218 – ROWLETT, TX
10th
21 (-144)
24th – JAKE HALL
#16 – FRISCO, TX
11th
20 (-145)
24th – ALEX MORRIS
#27 – BURLESON, TX
11th
20 (-145)
26th – COLTON TAYLOR
#8 – PRINCETON, TX
13th
16 (-149)
27th – TYLER MARRS
#252 – KEMP, TX
14th
13 (-152)
27th – JACOB HALL
#n99 – MESQUITE, TX
15th
13 (-152)
29th – KLAYTON REEVES
#849 – WAXAHACHIE, TX
12th
12 (-153)
30th – JACOB REED
#215 – HEARTLAND, TX
16th
10 (-155)