For Immediate Release
Texas Promoters Form First AMA Competition Partnership
October 13, 2014 (Irving, Texas) – The American Motorcyclists Association (AMA) has taken the initial steps in creating the first Competition Partnership in the United States. With the leadership of AMA's Bill Cumbow and Kip Bigelow, a group of nine (9) Texas track owners/promoters met in the Dallas/Fort Worth metro area on Wednesday, October 8th to discuss the probability of becoming a Competition Partner with the AMA.
After Bill and Kip addressed the Texas promoters (see list below), the group decided to move forward with the offered plan. العاب للربح من الانترنت The idea is to help form a Competition Partnership in an area of the US where the formation of a Recognized District Organization (RDO) is not possible. Since AMA sanctioned events are only offered by motocross promoters in Texas, the CP program was developed to help address typical issues like calendar overlap.
The group wanted to recognize Russ Hobbs, owner of Buffalo Creek MX Park for leading the charge for the last three years as the appointed District 41 President. Since a RDO was not possible to form in Texas, a vote for the CP President was taken. The group elected Richard White (AMA Referee in Texas) as the President and April Johnson (Co-Owner of Johnsonville MX) as the Treasure/Secretary. This election will help to address the immediate calendar dates for 2015 within the group. The group will reconvene in November and again in December with a new election to nominate the 2015 Board for their one-year term. لعبة بينجو
"Much work has to be done in regards to the By-Laws of the Competition Partnership in how we are going to function as a group" said Richard White. سباق خيول He added "Many dates for events and series are already set in the area so our riders and families will not need to worry. There is nothing greater than seeing track owners moving forward with the common interest in taking care of our riders. We will move swiftly and hopefully exceed the families' desires."
A pre-sanction meeting is set for November 10th with the sanction meeting on December 8th.
Current Partnership include:
• Badlands MX Park
• Buffalo Creek MX Park
• Freestone County Raceway
• Johnsonville MX Farm
• Oakhill Raceway
• Paris MX (not present at meeting)
• River Valley MX
• Swan Raceway Park
• Underground MX Park
• Village Creek MX Park
Texas Competition Partnership Contact Info:
Richard White – president@texasmx.com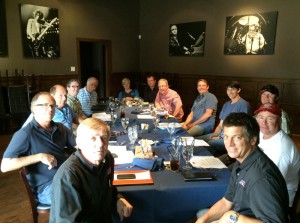 Clockwise from the left/front:
Bill Cumbow
Russell Hobbs
David Lux
Tom Shields
Tony Miller
April & Cole Johnson
Terry Cordray
Garth Wiebe
Trey Clingfost
Randy Poulter
Jeff Oldenburg
Kip Biglelow