September 24, 2012 (Wortham, TX) – Freestone County Raceway, LLC. and it's affiliate tracks are happy to welcome Underground MX Park (Kemp, TX) to its list of promoted venues in joining the 13th Annual Honda of Houston/FMF AMA Texas Winter Series.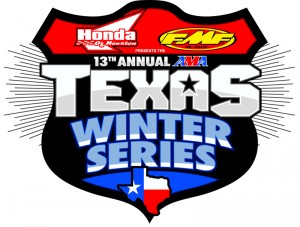 "Here at Underground MX, we're excited to support and to be part of the 13th Annual Texas Winter Series, which is already a well-established and well run series" said Randy Poulter, President of UGMX.  "We hope to provide another great venue for all of the riders and their families that follow the TWS. UGMX looks forward to welcoming everyone!"
The AMA Texas Winter Series has been the largest, richest series in the Lone Star state since 2006 and boast over $400,000 in contingency.  The series kicks off on New Years Weekend on Freestone's pro national track.
Rd 1 – December 29-30, 2012 – Freestone Raceway
Rd 2 – January 12-13, 2013 – Village Creek MX Park
Rd 3 – January 26-27, 2013 – Underground MX Park
Rd 4 – February 9-10, 2013 – Oakhill Raceway
Rd 5 – February 23-24, 2013 – Freestone Raceway
The AMA Texas Winter Series races Mini's on Saturday and Big Bikes on Sunday.  The series also offers each round as an AMA Pro Am to allow riders to earn their points for theirs pro license early in the year.
With discounts for online and multiple entries, the series awards overall contingency through 10th overall and counts points for the best 4 out of 5 rounds.
Please share this on Facebook with you friends.
Contingency:
Acerbis, Alpinestars, Baxley's, Bell Helmets, Cobra, Dunlop, EBC Brakes, Engine Ice, EVS Sports, Excel Rims, FMF Racing, Honda,Hinson Racing, Husqvarna, Impact Video, Kawasaki, KTM USA,Matrix Concepts, Mini Warriors, Motion Pro, Moto Masters,MotoXVest, Oakley, Parts Unlimited, PMP Sprockets, Pro Clean 1000, Red Bull Energy Drink, Renthal, RK Chains, Shock Sox,Speed Graffix, Silkolene, Suspension Dynamics, Suzuki, Tagger Designs, Tamer Motorsports, THOR MX, TJ's Cycle, Twin Air, VP Racing Fuels, Wiseco, Works Connection, Xtreme Kolors, Yamaha.