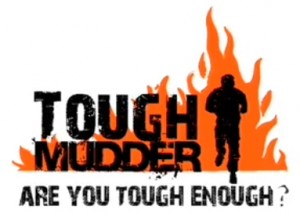 Probably the Toughest Event on the Planet, Tough Mudder is coming to Freestone County Raceway and the Miller Ranch this coming weekend on Saturday, March 31 and Sunday, April 1, 2012.
This 11 plus mile obstacle course includes 22 military-style obstacles, including electric shocks, ice-cold plunges, 8′ foot walls, barbed-wire crawls, 100′ long mud pits, and patented FireWalker gauntlet of flames.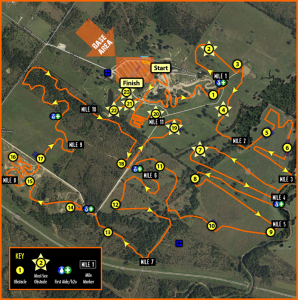 Freestone Course Layout
Designed by British Special Forces, Tough Mudder is the absolute toughest mud-run out there, and is meant as a true test of all-around strength, stamina, mental grit, and camaraderie.  Many obstacles are specifically designed to require teamwork. Forget your finish time — simply completing a Tough Mudder is a badge of honor.  Truly, not everyone will complete the course, but those who do will be welcomed across the finish line with a free beer and entrance to the Dos Equis Post-Party where teams can recount the challenges of the course as they enjoy live music and classic Wortham, Texas chow.
Tough Mudder gives discounts for entrants who pledge to raise money for our official charity partner, the Wounded Warrior Project, an organization that supports injured servicemen and servicewomen.  Last year Mudders raised $650,000.  This year our goal is over $1,000,000.
Come do it yourself and have your friends and family cheer you on.  To learn more Click Here.  See you at the starting line!  Parking is $10/vehicle (cash only).
Note: No ATV's, UTV's or Pets Allowed.  No Camping on Site Allowed.