Wortham, Texas – March 2, 2011 – Freestone County Raceway is happy to announce that Kayla Solheid is the winner of February's VurbMoto Facebook Friendzy.  Kayla comes to Texas for the AMA Spring Championship via White Bear Lake, Minnesota.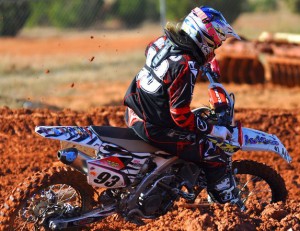 Solheid posted her picture on Freestone Facebook Fan page along with others as part of the drawing.  Kayla will receive up to four race entries FREE for the upcoming AMA Spring Championship at Freestone Raceway, March 7-12.
We at Freestone hope everyone had a good time with the Facebook Friendzy.  Congrats to Kayla and Good Luck at the Spring Championship!!!  We're sure you will represent the "Land of 10,000 Lakes" well.
A side note of history.  The funny part is that the Miller Ranch (est 1853) was in existence five years before the state of Minnesota joined the union of the United States.