January 22, 2012 (Wortham, Texas) – Colt Sanderson of Menifee, California is this weeks winner of the Freestone Facebook Freebie Frenzy.  Since winning tickets on Facebook, we are sure he can find a friend to take and enjoy Anaheim on Saturday, February 2nd.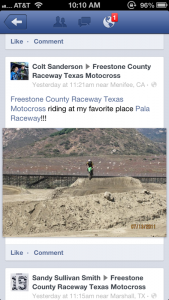 Go to Freestone's Facebook Fan Page next Monday at 10am and post a picture of yourself on Freestone's wall for the next pair of tickets to San Diego Supercross.  For complete contest details, CLICK HERE.
Here are the contest dates for each round.  Only pictures posted between 10am Monday to 10am Tuesday will be considered.
Jan 28-29 – Tickets for Rd 6 (San Diego – Feb 9)
Feb 4-5 – Tickets for Rd 7 (Arlington – Feb 16) Freestone T-Shirt Picture
Feb 11-12 – Tickets for Rd 8 (Atlanta – Feb 23)
Feb 18-19 – Tickets for Rd 9 (St Louis – Mar 2)
Mar 4-5 – Tickets for Rd 11 (Indianapolis – Mar 16)
Mar 11-12 – Tickets for Rd 12 (Toronto – Mar 23)
Mar 25-26 – Tickets for Rd 13 (Houston – Apr 6) Freestone T-Shirt Picture
Apr 1-2 – Tickets for Rd 14 (Minneapolis – Apr 13)
Apr 8-9 – Tickets for Rd 15 (Seattle – Apr 20)
Apr 15-16 – Tickets for Rd 16 (Salt Lake City – Apr 27)
Apr 22-23 – Tickets for Rd 17 (LasVegas – May 4) Freestone T-Shirt Contest