Freestone County Raceway
A Texas Premier Motocross track located on the 1150 acre Miller Ranch in Wortham, Texas; Freestone County Raceway LLC is made up of two motocross tracks and numerous Off-Road tracks.  Freestone County Raceway (FCR – aka Night or Amateur Track) was established in 2000.   Freestone Raceway (aka: National Track) was established in 2007 and played home to the Lucas Oil AMA Pro Motocross Championship from 2007-2012.  The pro motocross track is a purpose built pro racing facility that had its very first race being on September 2, 2007.  The first winners were Grant Langston (450) and Ryan Villopoto (250).
Freestone is also the promoter of one of the largest, richest amateur series in America – the AMA Texas Winter Series.  Other amateur series and events include the Texas Night Series (North and South), AMA Women's Motocross Cup, the AMA Texas State Motocross Championship and the James Stewart AMA Spring Championship.
FCR has one of the best lit tracks for amateur night racing in the US.
Check out the "Calendar" page for more great events at Freestone.
History
Welcome to our part of racing history!  Our background in motorcycle racing started almost two decades ago. We would like to share our colorful history with the motorcycle loving world and with the motorcycle industry as a whole. We hope you enjoy getting to know us!  Be assured, we are serious about our racing.
The Miller Electric Race Team began in 1995.  Mark Broussard and Chris Viningre of Texan Harley Davidson located in Conroe, Texas requested some support for a start up road race team, using a Harley-Davidson 883 Sportster to run the local CMRA/WERA road race series with rider Tom Shields.  The team ran the last AMA National Road Race at Firebird Raceway in Phoenix, Az.  Tom finished 10th place among riders such as Ben and Eric Bostrom, Scott Zampach, and Shawn Higbee. After getting a good look at AMA Pro Road Racing, Miller along with his ranch manager Jack Bounds brought the team in house and campaigned the 1996 AMA road race series with rider Mark Black of Austin, Texas.  Mark finished 4th place overall in the series.
The 1997 season brought Eric Bostrom on board. Eric won 10 of 11 AMA Nationals setting qualifier lap time records at 7 of the tracks, and elapsed time records at 8 of the events.  Eric won the AMA Harley-Davidson SuperTwins National Championship and the Harley-Davidson World Finals at Daytona in 1997.  The team members were Eric Bostrom (Rider), Mark Elder (Mechanic) and Jack Bounds (Mechanic).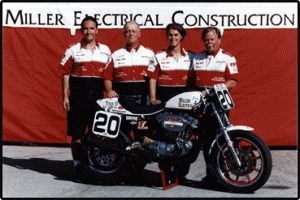 (L to R) Mark Elder, Jack Bounds, Eric Bostrom, Tony Miller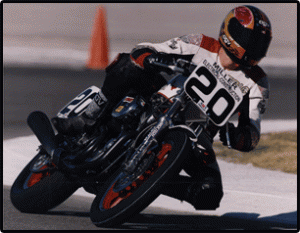 1997 Eric Bostrom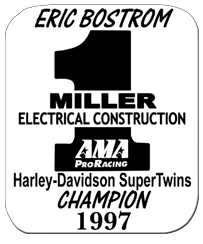 In 1998, Harley dirt tracker Jess Roeder (son of George Roeder-former Harley factory rider) from Monroeville, Ohio was going to road race for the team.  The AMA dropped the Supertwins class, so the Miller team moved over to the AMA Harley-Davidson 883 Dirt Track Series.  Jess Roeder won the 1998 AMA National Championship in a close battle with Dave Camlin and Texan Willie McCoy.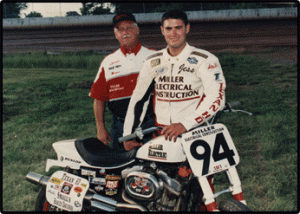 Jack Bounds (L), Jess Roeder (R)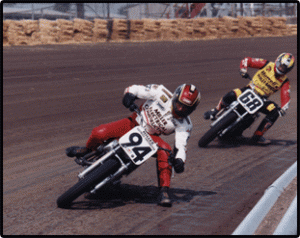 Jess Roeder #94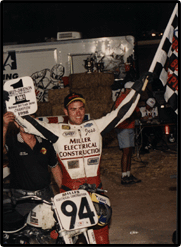 Jess Roeder Champion 1998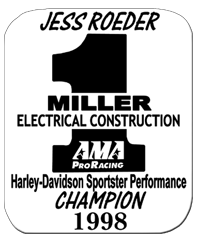 1999 brought California rider Shaun Russell to the Miller Electric Team.  He and mechanic Jack Bounds again ran the AMA Harley 883 Dirt Track series.  Shaun finished 2nd to Willie McCoy at the last race of the year at Del Mar, Ca.  It was a photo finish with only one point between the riders.  Willie beat Shaun to the finish line by 6 inches and gained enough points to finish ahead of Shaun for the championship.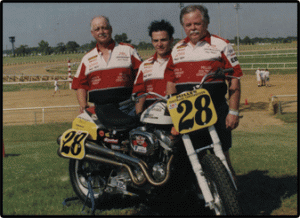 (L to R) Jack Bounds, Shaun Russell, Tony Miller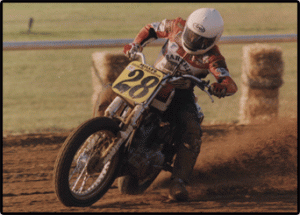 Shaun Russell #28
1997, 2000 and 2001, Miller Electric has also been a sponsor to the Bills Pipes/Factory Suzuki Team, with 5 time National Arenacross Champion Buddy Antunez. Miller's association with team owner Billy Whitley of Lufkin, Texas started with son Clayton getting riding lessons in 1997 when he was riding the beginner 80 class.  This association with Whitley in motocross and Clayton's riding was the influence for Tony Miller to be more involved in motocross.
In 2000, Tony Miller built the Freestone County Raceway, as a way to participate on a local level with the motocross riders and family's, so to provide a centrally located track to hold races.  With focus on Clayton and his desire to become a pro rider, and the desire to make a contribution to racers locally, Freestone County Raceway became a factor to the growing number of riders and family's in this region of the USA.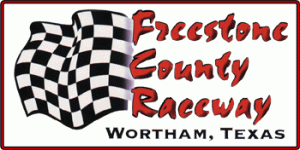 By the end of 2004, Tony Miller's personal business required enough attention that he and Tom Shields joined back together in an effort to further expand Freestone presence in Texas motocross.  By the end of 2005, the AMA Texas Winter Series was the largest series in the state.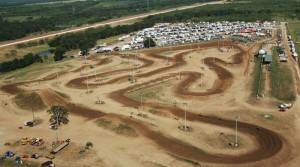 Loretta Lynn Regional 2006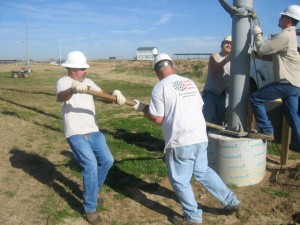 Light Construction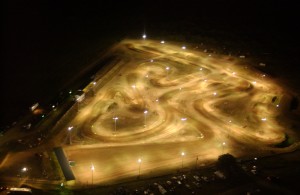 Day or Night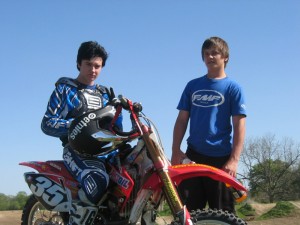 Josh Grant at Freestone SX Practice Track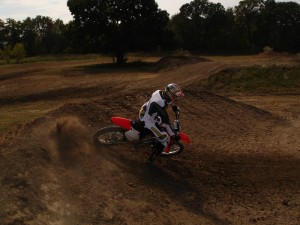 David Villumen Dunlop Tire Test
Things would further change in 2006, when negotiations between a sponsor of the Texas Winter Series brought to the attention to Tom Shields.  Broome Tioga was looking for a new location to sell it's 11th round of the AMA Motocross Championship to.  Quickly after a due-process was conducted by all parties and industry rumors, the official announcement came in February of 2007 from the AMA that professional motocross racing would return to Texas after a 19 year absence.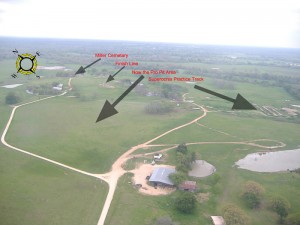 Just before the construction started on the national track at Miller Ranch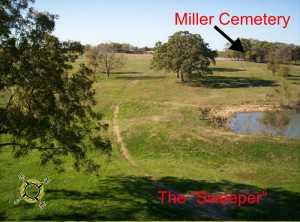 Before the fences started to go up.
On September 2, 2007, the dream became a reality when the gate once again dropped for professional motocross racing in Texas.  On that Labor Day weekend, sounds of what once were a cow pasture heard the roar of motorcycles and cowbells at the same time.  Fans saw something that looked like a mummy near a place called Cemetery Hill on a family's 1150 acres called Miller Ranch, established in 1800's.  Phrases like the Texas 12 Pack were born.  Things were new but somehow it was as though it had always existed in the minds of Texas motocross fans.  The dream had come true and it was all pulled together in 7 short months that year in 2007.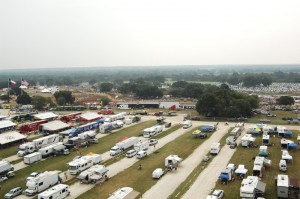 AMA Motocross Pro National 2007
To top off a wonderful 2007, Freestone County Raceway was one of three nominees for the AMA Amateur Motocross Promoter of the Year.  That was followed by another nomination in 2008.
Without Tony's adoring wife and support, none of this would have been possible so first off …. a huge thanks is owed to Karen Miller.  Special thanks and recognition for making that reality come to pass are people like Vern Patterson of Hull Associates, Bill Stevens of Berkey's Plumbing, Dan Cogdell Attorney at Law, Alan Johnson of Holcomb Tree Service, Gary Styles of Styles Constructing, Tim Wallace, Billy Frank of Frank Industries, Tom Hurd of Broome Tioga, Steve Whitelock of the AMA, Tom Shields and of course, Tony and Karen Miller of Miller Electrical Construction, Inc. in Houston, TX.
Contact us with questions by clicking below.