February 5, 2014 (Alvord, Texas) – As Round 4 of the 14th Annual Honda of Houston/FMF AMA Texas Winter Series approaches this weekend at Oakhill Raceway, the class championships are not the only battles raging.  A war between youth riders is being wagged for this years Bell Helmet award.  With two rounds still to add points, its the youngest of the riders showing the way.  In only three rounds, the gate has dropped for over 2100 riders from 21 different states, Canada and Mexico.
The Bell Golden Helmet Award gives the rider who shows the greatest consistency against the greatest number of riders.  A rider earns one point for every position they are ahead of plus one bonus point for a moto win.  The points are then added together from all classes and the rider with the greatest total points is the recipient of the Bell Golden Helmet.
Branden Walther from Denton, Texas leads the stacked field of riders.  Tommy Leclere IV (Pearland, TX), Brock Walker (Cleburne, TX), Kaeden Amerine (Great Bend, KS), Shelby Peterson (Ft Worth, TX) and Grant Harlan (Roanoke, TX) all have over 400 points toward the award.  The rider who finishes runner up will receive the Renthal Bar Award for their efforts.
Bell Helmets has one-of-a-kind Tagger Designs painted Moto 9 trophy along with a one year sponsorship offered to the awarded rider.  Below is the top 20 riders in the points after three rounds.  Round 4 is this Saturday and Sunday, February 8-9 at Oakhill Raceway in Alvord, Texas.
1.
68
Branden Walther (12)
593
2.
54
Tommy Leclere Iv (12)
553
3.
14
Brock Walker (9)
448
4.
32
Kaeden Amerine (9)
421
5.
99
Shelby Peterson (9)
409
6.
11
Grant Harlan (10)
406
7.
434
Dustin Winter (9)
386
8.
162
Brae Bergdolt (9)
365
9.
225
Kaedon Steinert (9)
364
10.
85
Jason Stubbs (9)
355
11.
145
Jack Richard (9)
345
12.
67
Jesse Flock (9)
342
13.
29
Matthew Leblanc (6)
341
14.
24
Dalton Dyer (9)
326
15.
136
Zachary Prokop (9)
323
16.
128
Carter Halpain (9)
299
17.
306
Riley G. Allen (6)
293
18.
78
Clay Quick (6)
291
19.
328
Codee Samples (6)
260
20.
20
Kody Stricklin (6)
253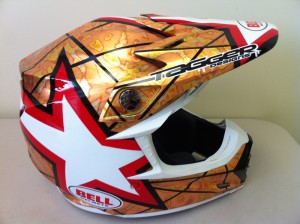 Photo of 2013 Bell Golden Helmet Award